Attention Home Inspectors - are you interested in using yourpropertyreport.com?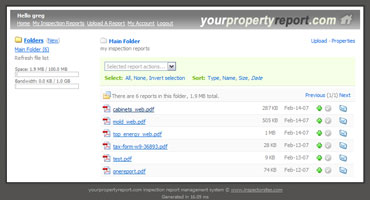 Home Inspectors simply login and upload your finished inspection report in .pdf or .doc format. Your report is immediately ready for your client to download. You can then either copy the link or email your client the link using the easy online email interface. It just can not get any faster or easier than this! The whole process takes less than 10 seconds from start to finish! The days of attaching large size inspection report files to email messages and waiting for them to send, hoping your clients receive them are over!

Your client goes to yourpropertyreport.com and enters in your inspector code and report code you sent them in the email. Your finished report downloads and is instantly viewable by the client right in their own web browser - OR - If you choose, you client is sent the the full url in the email message allowing them to download their completed inspection report with one click. They do not have to go to www.youpropertyreport.com first.

Our System is completely web browser based and does not require any scripts or programs to be installed on your own computer. You can access your account and upload inspection reports from any computer attached to the internet. The only requirement is that all reports must be in .pdf or .doc format. Yourpropertyreport.com will make your home inspection business look professional and stand out from the rest.

What you get for free:
50MB disk space (enough to store 10-25 completed .pdf inspection reports) and 1GB bandwidth (enough to download 100-500 reports per month) The amount of space and bandwidth it totally dependant on the file size of your finished inspection reports. Everyone's results will be different. We estimate that the average report is 3MB, so at that figure, you could store 16 reports online and they could be downloaded 341 times before you ran into any need to upgrade your account. To conserve on storage space, all you need to do is delete older reports and then you have room for new ones, so you should never run out of space unless you have either real large file sizes or you do over 16 reports a week.


Register Now For Free ! - click the register link at the top left

The service is absolutely free to home inspectors with nachi, ashi, kreia, creia or nahi affiliations. There are no catches or gimmicks to worry about and we will never sell or pass on email address or your business information to anyone. It's our way of helping to support home inspectors and the entire home inspection industry. When you register please include your affiliation id in the appropriate box. For example, nachi id's start with "NACHI0". We will only approve accounts with valid id's that we can verify on the inspectors affiliations website. If you would like to register but are not a member of one of the approved affiliations, please contact me by sending a support ticket at www.inspectorsites.com and I will review your application on a case-by-case basis. I am always looking for new associations to offer this service to.
How do I get more disk space or bandwidth so I can store more reports online ?
A basic account is absolutely free and will work well for most home inspectors. If you operate a busy inspection business you may need more disk space and/or data transfer. For those inspectors we offer 100Mb and 200MB upgrade packages for $4.95/mo and $9.95/mo respectively. If you need more, contact us for a custom quote. If you would like to upgrade, just go over to www.inspectorsites.com and purchase an upgrade package. Existing clients can add the upgrade from their inspectorsites.com user account area. New clients will need to sign up for service with inspectorsites.com and select the yourpropertyreport.com service upgrade they would like to purchase. There is a one time setup charge of $19.95 per upgrade. If you have any other questions, just open a support ticket or call me and I will be glad to assist you.
Yourpropertyreport.com - about the service
Yourpropertyreport.com was developed and is hosted by Inspectorsites.com the number one home inspector web site building and hosting system. If you need a home inspection website, go to www.inspectorsites.com or call us toll free 1-866-544-3369 today.